Trio Lyra

Photo by GADI HOZ Photographics Inc.
Mark Childs ~ Viola     Suzanne Shulman ~ Flute   Erica Goodman ~ Harp
From their first performance of the Debussy Sonate in 1978, the members of Trio Lyra have enjoyed a mutual devotion to beauty and perfection in musical expression which is instantly communicated to their audiences. Trio Lyra's repertoire ranges from Baroque to the best of today's composers. They have commissioned and premiered major new works from six of Canada's finest composers – Ben Steinberg, Srul Irving Glick, Milton Barnes, Harry Freedman, Andrew MacDonald and Marjan Mozetich.
The nature of this combination of instruments has inspired a particularly rich selection of French repertoire, and Trio Lyra has been featured in all-French programs broadcast by the French CBC. The 1994-95 season saw tours in Quebec, Ontario and the United States with broadcasts on both the French and English national CBC networks, and in 1996 the trio appeared  at the Sixth World  Harp Congress in Seattle, Washington.
Trio Lyra's debut CD, Music of Ravel, Debussy and Fauré, was released in September, 1997 on Opening Day Recordings, catalogue #9309, and includes the world premiere recording of the Fauré-Salzedo Dolly, Op. 56. Their second CD, Harbord Street, was released in the spring of 1999, and includes world premiere recordings of four  commissioned works -- Milton Barnes' Harbord Street, Srul Irving Glick's Trio for flute, viola and harp, Harry Freedman's Touchpoints and Andrew P. MacDonald's Pleiades Variations, Op. 45.
1999-00 also saw concerts in Texas, Michigan, the Festival of the Sound, the Muskoka Lakes Festival, British Columbia and the Yukon. Concerts in 2000-2001 included Haliburton, Meadville, PA., Owen Sound, a tour to Atlantic Canada and concerts in Port Perry and Barrie. The new Mozetich work had its premiere at Queen's University, Kingston Ontario, October 24, 2002, and Trio Lyra's third CD, Lyra Hébraïque, Music of Jewish Composers, was released by the Canadian Broadcasting Corporation in the summer of 2003. The fourth CD, Mosaics, featuring music from Mozart to Mozetich was released in October, 2004.
Highlights of the 2005 and 2006 seasons were the premiere of a new Glenn Buhr work at the 34th International Viola Congress in Montreal, the Trio's fourth appearance at Meadville College in Pennsylvania, and performances at the Festival of the Sound and the new Norfolk Fall Festival.
UPCOMING CONCERTS
October 19, 2007

8:00 pm

Dundas, Ontario

Clearly Classic Concerts

Info: 905.304.3637

The Carnegie Gallery,
10 King Street West,
Dundas, Ontario

October 21, 2007

8:00 pm

Kitchener, Ontario

Kitchener-Waterloo Chamber Music Society

Info: 519.886.1673

The Music Room, 57 Young Street West, Waterloo, Ontario

October 22, 2007

8:00 pm

Toronto, Ontario

A Tribute to Milton Barnes

Info: 416.924.6211 x0

Miles Nadal JCC, 750 Spadina Avenue, Toronto, Ontario

October 23, 2007

12:00 Noon

Waterloo, Ontario

Wilfrid Laurier University

Info: 519.884.0710 ext. 2150

Maureen Forrester Recital Hall. Admission is free.

October 26, 2007

8:00 pm

Parry Sound, Ontario

Charles W. Stockey Centre for the Performing Arts

Info: toll free - 877.746.4466

Stockey Center, Two Bay Street, Parry Sound, Ontario

CONCERTS 2003-2006

October 14, 2006 8:00 p.m.

Huntsville, Ontario

Huntsville Association of the Performing Arts

Info: 705.789.9453

Trinity United Church, 33 Main Street East, Huntsville, Ontario

October 11, 2006

7:30 p.m.

Meadville, Pennsylvania

Allegheny College

Info: 814.332.3101

Ford Chapel, Allegheny College.

June 11, 2006, 1:30 p.m.

Montreal, Quebec

Click for info:34th International Viola Congress

University of Montreal

October 22, 2005, 8:00 p.m.

Bancroft, Ontario

Performing Arts Bancroft

Info: 613-332-5918

The Village Playhouse

5 Hastings Street South

October 21, 2005, 8:00 p.m.

Simcoe, Ontario

Norfolk Fall Festival

Tickets $20. Info: 519.428.0540 www.norfolkfallfest.com

"Norfolk Virtuosi" Trio Lyra, with soprano Patricia Green, 'cellist Coenraad Bloemendahl and pianist Peter Tiefenbach. Holy Trinity High School, 128 Evergreen Hill Road

August 6, 2005, 7:30 p.m.

Parry Sound, Ontario

1-866-364-0061

"Under Paris Skies" Charles W. Stockey Centre, 2 Bay St.

August 2, 2005, 8:00 p.m.

Parry Sound, Ontario

1-866-364-0061

"Patisserie at Manitou"

The Inn at Manitou

November 7, 2004, 2:00 p.m.

Newmarket, Ontario

Visual and Performing Arts Newmarket

Info: 905-939-0889

Newmarket Theatre, 505 Pickering Crescent

November 5, 2004, 8:00 p.m.

CD Launch event for "Mosaics" on the Marquis Classics label

Hamilton, Ontario

Hillfield Strathallan College

Info: 905-389-1367 ext. 170

The Artsplex, 299 Fennell Avenue West

October 3, 2004, 7:30 p.m.

Toronto, Ontario

American Harp Society, Toronto Chapter

Info: 416.391.5418

Armour Heights Presbyterian Church, 105 Wilson Avenue

July 27, 2004, 8:00 p.m.

Port Carling, Ontario

Muskoka Music Festival

Info: 1-888-311-arts (2787)

Port Carling Memorial Community Centre, Port Carling, Ontario

April 23, 2004, 8:00 p.m.

Gravenhurst, Ontario

Muskoka Concert Association

Info: 705.645.7812

Gravenhurst Opera House, 295 Muskoka Road South

January 18, 2004,

8:00 p.m.

Toronto, Ontario

Celebration of 600th Concert at Hart House, University of Toronto

Hart House, on the main Quadrangle. Admission free, no ticket required

November 8, 2003, 8:00 p.m.

Collingwood, Ontario

Blue Mountain Foundation for the Arts

Info: 705.445.3430

Gayety Theatre,

161 Hurontario Street, Collingwood

November 7, 2003, 8:00 p.m.

Cumberland, Ontario (Ottawa)

Concerts Cumberland

Info: 613.833.0825

Orleans United Church, 1111 Orléans Blvd. Orléans, Ontario

October 23, 2003, 7:30 p.m.

Philadelphia, PA.

Philadelphia Chapter, American Harp Society

Info: cdcharp@aol.com

Chestnut Hill Presbyterian Church, 8855 Germantown Ave. Tickets at the door, $15, $10.

October 22, 2003,

New York City

Baruch College, City University

Info: 646.312.4050

Engelman Recital Hall, 1 Bernard Baruch Way (25th St. between Lex. and 3rd Ave.) Free admission, no ticket required
Released October 19, 2004:
<![if !vml]>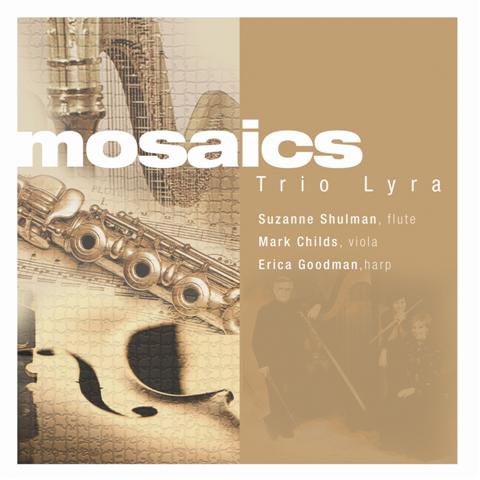 <![endif]>
"Since its founding in 1978, Canada's Trio Lyra has devotedly gone about the business of making chamber music at a high level...it has always been worth seeking out the threesome's concerts and discs…[Mosaics] adds a worthy title to the Marquis catalogue"
William Littler, The Toronto Star, February 10, 2005
"A wonderful album of music for the trio of flute, viola and harp. There's everything from a transcription of a Mozart sonata to a brand new work by Canadian composer Marjan Mozetich. The Cesar Cui pieces are delightful. All of the music on the album is friendly to the listener…you won't want to miss these performances. Trio Lyra is one of the world's best, and their work is always exciting and interesting."
Listen to samples of all the tracks for "Mosaics" here
Listen to samples of all the tracks for "Trio Lyra – Ravel, Debussy, Fauré" here
Listen to samples of all the tracks for "Harbord Street" here
Listen to samples of all the tracks for Lyra Hébraïque, Music of Jewish Composers here
Available from all internet classical CD sources and
most better classical record stores in the United States and Canada
To order directly from Trio Lyra, click here
Harbord Street:
"All of the music here is highly colorful and completely easy on the listener's ear...This is all lovely music beautifully performed and recorded. Worth a listen"
Fanfare Magazine
"These three are strong individual musicians, come together out of a love for chamber music, and they play like it. The music here is all Canadian, and all world premiere recordings; covers a wide range of styles and moods, all carefully and capably handled. And the recording is bright, clear and open. Five stars. "
"Sound Advice" with Rick Phillips, CBC Radio
"The musicians' playing is impeccable throughout, revelling in the warm, evocative combination of these instruments...The recorded sound is gorgeous, with a full, natural bloom and superb balance."
Opus Magazine
Trio Lyra: Ravel, Debussy, Fauré:
"Overall this is an excellent recording. All the playing is first-rate, and the recording is excellently engineered to allow interesting harp string effects to come through while eliminating distracting pedal sounds."
The American Record Guide
"This is an altogether charming program of early 20th-century French music, performed with grace and subtlety... This lovely performance (of the Debussy Sonate) is especially notable for Shulman's warm-toned flute, Goodman's cascading harp scales...and for the exuberant mood of the finale...(Children's Corner) a superb showcase for Goodman's elegant harp playing...fine performance by Trio Lyra...A wonderful disk. Performance: 5 stars."
Classical Music Magazine
Chosen by Elaine Kennedy, KUHF-FM's "love doctor," as one of her 10 favorite romantic discs.
LYRA HEBRAIQUE - Music of Jewish Composers
"This is a unique collection of music for a colorful combination of instruments. All of the pieces have pleasant melodies and harmonies, even though the composers draw their inspiration from concrete musical influences like jazz, chant, and Israeli songs, as well as sensual memories of summer days and the expectation of a summer wedding. The Trio Lyra perform with a high level of commitment and intensity They have refined control of intonation and harmonics, even in difficult passages. They always support each other's musical ideas with balanced dynamics and clear articulation."
                                                American Record Guide
"Rapture!"                             La Scena Musicale, Montreal
"Three of Canada's leading chamber musicians…An engaging disc."
                                                      William Littler, The Toronto Star
"Trio Lyra is up to its usual high standard…Five stars!"
                                                             Rick Phillips, CBC Radio
For booking inquiries, please email to TrioLyra@yahoo.ca
 For the Trio Lyra brochure, click here:
lyrabro.pdf
For a high-res photo, click here:
(To download, right-click and choose "Save Target As")
Trio Lyra photo
---
This page was last updated on September 18, 2007
Comments may be emailed to triolyra@yahoo.ca